THE BODYGUARD - 1992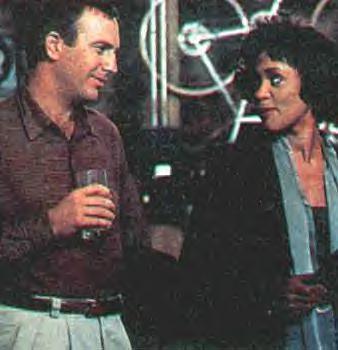 " Were you tough?" "No, I was fast."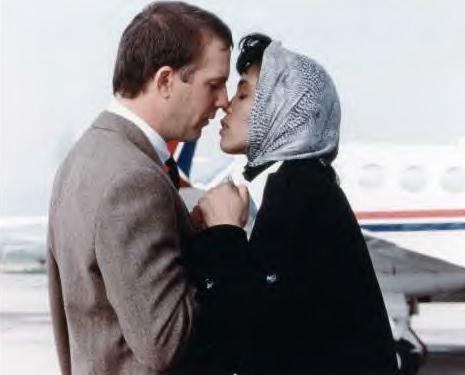 "And I will always love you."
THE BODYGUARD was Whitney Houston film debut. It was one of the first ventures into a racially mixed couple that didn't go into the interracial theme. They were so good together.

Frank Farmer is former Secret Services White House Detail that was on a day off the day Pres. Reagen was shot. He still has thoughts of how different it would have been if he had been there. But now he is working for actress-singer Rachel Marron. She isn't aware of the threats against her life but her aids are and it is up to Frank to keep her alive and well. He isn't quite sure how to do this with her ways of greeting her fans and interactive with an audience at a impromptu performance at a night club. This girl is about to drive Frank nuts, between her beauty and the danger she is in. Frank falls for her beauty and realizes that he can't protect her if he is having a relationship with her.

So he goes on protecting her and her family. and he is still in love with her. This is a love story and a mystery. Just when you think He has got the hit defused you find out you only know one fragment of the plot and why.

This soundtrack from THE BODYGUARD just this past spring broke the all time biggest selling soundtrack record by going past SATURDAY NIGHT FEVER. This record breaker changes weekly according to Billboard Magazine. One week it is SNF and the next THE BODYGUARD breaks threw again. This is a wonderful CD that I never get tired of.
Now there is a footnote to this movie. Kevin has finally come to terms with the death of Princess Diana and just now or last year he started to confirm that yes Princess Diana was approached by Kevin to do Bodyguard II, but the day he received a copy of the script was the day Diana was killed in the Paris car crash. He said in a few interviews that he was devasted by her death. He wanted her beauty and grace for this movie. I do hope personally that someday in the future that he finds another Princess to do Bodyguard II.