Waterworld- 1995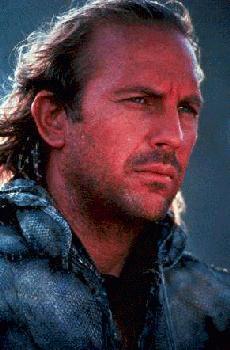 The Mariner
WATERWORLD was absolutely panned by the critics as one of the worse movies ever made. Much to their critical dismay WATERWORLD made money for Kevin, almost $300mil. worldwide, who produced this high budgeted sci-fi movie of the world after the polar caps had melted. Kevin still says to this day that this was the hardest shot he has ever had and on top of that he was in the middle of divorcing Cindy.

To show the dismay of the characters in their endless search for dry land Helen says to the Mariner, "we have legs and feet made to walk on dry land."

The Mariner is a mutate, yes he has gills. I always thought that Crash Davis would have loved having gills so he could really give a girl a long wet kiss that he could make last 3 days.

But the Mariner is not of that sort. Very out of character for Kevin personally, he doesn't like the little girl, Enola who may hold the key with a tatoo on her back to dry land. But after awhile he sort of warms up to her. He teaches her to swim in a heartwarming sequence in the ocean.

He breathes for Helen in one part when they are in danger. Other then that it is a guy flick with a touch of Mad Max and all of that. The scenery is spectacular being filmed in Hawaii.The atoll where the Mariner finds Helen and Enola was actually built to scale and towed out to the open ocean for the scenes to be shot. The catamaran was also full scale and Kevin did most of his own stunts because they were running far over budget and an effort to save money Kevin was almost drowned at least once. And on top of that our hero had days of seasickness while filming. Kevin also tells the story of one day a storm came up while they were filming on the catamaran and he was high in the rigging when the film crew just left him there.
There is another version of this out lately, but Universal hasn't answered my requests of it being released with an extra 40 mins. added to the original theaterical release on a new DVD or VHS. They haven't updated their home video website since October. The premium cable channels have shown this version with a different ending. I won't tell the new ending, but I think if they had released this version to the theaters with this ending, everyone would have liked it more if not loved it. I will let everyone know if Universal ever answers me about a new DVD or VHS on the News and Gossip page.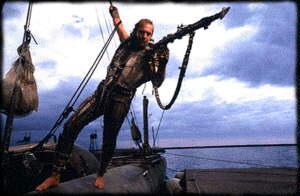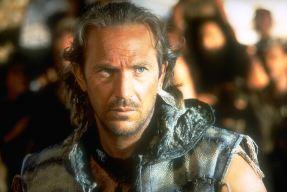 Bartering dirt for hydro