Oliver Stone's JFK
JFK - 1991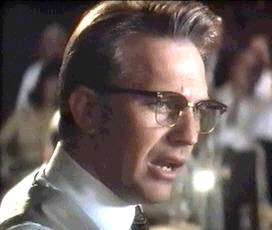 Jim Garrison's finale summation
This is a powerful and very intriguing movie about the assassination of President Kennedy. Oliver Stone mixes actually footage of the assassination and actual footage of the autopsy with his own characters and dialogue. This is a mixture of fact and fiction and at times it is hard to tell which one is which. After watching the DVD with Stone's commentary I really appreciate his efforts.

Kevin's acting is at its best as Jim Garrison the New Orleans District Attorney that delved into the inconsistency and inaccurancies of the Warren Commission report on the Kennedy Assassination. This man was real and I remember seeing him on the Tonight Show with Johnny Carson and no one believed this man that this was possible and highly probably that there was more then one shooter that day in Dallas. Kevin's Garrison's final summation in my opinion deserved the Oscar for Best Actor. How Kevin learned all that dialogue and presented it as he did, well there are no words for this scene. In fact I watch it intensely everytime even though I know the end and the end results of the summation.

Jim Garrison died never knowing that today we the American public can see the papers that were supposed to be sealed until 2038 because of Oliver Stone. These documents are now available and they do say that there was probably a conspiracy and that Clay Shaw (Tommy Lee Jones) was a CIA operative. On the end of the DVD it says all of this plus gives you a chance of seeing actual documents that are now public. Neither that these documents are available to the public or any other information about this was at the end of the film recently shown on premium cable channels.

After seeing THIRTEEN DAYS and everything that JFK, RFK and Kenny O'Donnel went through those thirteen days JFK makes a lot of sense. I can't believe that THIRTEEN DAYS was made nearly ten years after JFK. I think if you ran these two movies back to back THIRTEEN DAYS first then JFK it would make sense to everyone that there were forces in the government that wanted JFK out of there. I still think it was the mob more then Cubans, but I don't think anyone will ever know for sure.