A PERFECT WORLD - 1993
You people sure are friendly.
This movie takes place in Texas in 1963. Filmed entirely in Texas with Clint Eastwood directing as well as starring with Kevin in this chasing escaped prisoners across Texas movie.

Kevin plays an abused child that grew up in a New Orleans "dance hall" where his mother hanged herself, she was suffering from advanced syphilis. His father was a convict and as Red put it he would hit and beat anything that was breathing and close to him. So we all know what road Butch Haynes was headed down.

The movie opens with Butch and Terry making their prison break. They steal a car of a prison official and kidnap the official to drive them out of the prison. In a desparate attempt to steal a different car in the wee hours of morning they are combing a quiet neighborhood for a Ford. Terry breaks into a woman's house as she is preparing breakfast for her children and being the sexual pervert psychiopath that he is he tries to rape her, only to be stopped by Butch.

When all of that is going on two pivotal things happen, her little boy Philip walks in the kitchen and an elderly neighbor arrives with a shotgun to help out the woman. The two escapees then take Philip as their hostage.

This is where the story separates as the usual hunt-down-the-prisoners genre. Butch eventually eliminates Terry because he was being his usually self and tried to rape the boy. Now Butch and Philip go on what could be called an adventure that would end tragically.

Butch is not the bad guy that Murphy was in 3KMTG, although this was Kevin's first role as the non-All American guy next door. Butch had a lot of heart especially for the boy. The only time he reacted in a violent manner was because someone was abusing a child no matter how minor he reacted to it violently.

This is a violent ending movie. Some say it is less violent then 3KMTG but I disagree I judge violence by the characters. You knew what Murphy was going to do before he did it, but Butch could take you by surprise and you did feel for him at the end.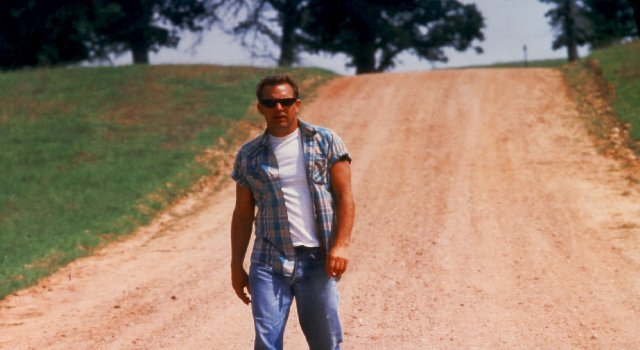 Butch looking for a new ride.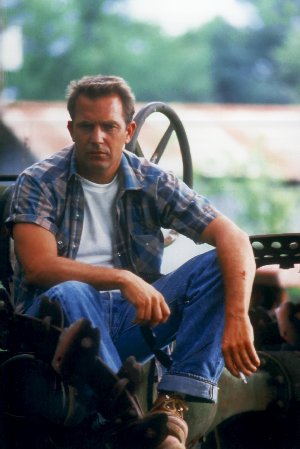 Robert "Butch" Haynes