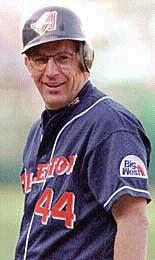 Kevin working out with CSF Titans 1999
Calfornia State - Fullerton Titans are the 2004 NCAA Div. 1 Men's Baseball Champions.
Cal State Fullerton 6, Texas 4
Game 2
Texas 2, Cal State Fullerton 3
Kevin was reported to be beside himself that he couldn't be there for this year's games, because of knee surgery he couldn't make.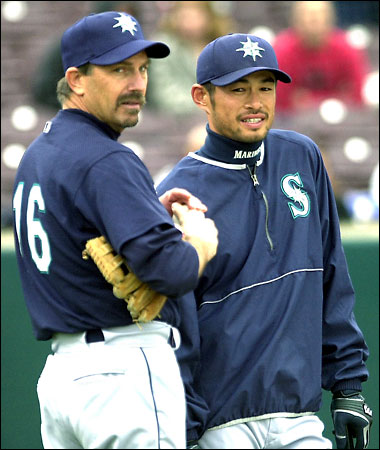 Kevin w/Seattle Stampede v Mariners
Althought there has been no pictures or reports of Kevin working out with a minor league team in Spring Training or with the Texas Longhorns in Austin there is always the possiblity that he did.
But then again the last time Kevin played with the Seattle Stampede v Seattle Mariners in a pre season charity game he was on the pitcher's mound and made Lou Pineilla the then Mariner's manager but playing in the exhibition game bite the dust with his first pitch. I haven't seen Kevin play in an exhibition game since. Nah, they would still want Kevin's name on a program.
For years Kevin has worked out with especially the University of Texas Longhorns in Austin before they start their season.
For the past two years Kevin has attended neither the College World Series of Baseball in Omaha Nebraska nor the Little League World Series in Williamsport PA. This had been a tradition to see Kevin and recently with Christine at both in the stands.
The last time Kevin attended the College World Series was in 2001 and that was the game that President George W. Bush also attended and there was a little razing going on from the announcer's booth when the camera caught Kevin and Christine kissing. Harold Reynolds who is always on Kevin Costner watch said someone tell Kevin that he is making out with his girlfriend in front of millions plus the President is here. Harold later teased Kevin when they had him in the booth as they always do at least once if not twice during the tournament. Kevin was truely embarrased.

There is a published report in the Kansas City Star that George Brett has invited Kevin to Spring Training 2005 with the Kansas City Royals in Surprise AZ.
Brett along with Johnny Bench and Bret Saberhagen were all invited to Kevin's house in CA to add to the 15th Anniversary DVD of Field of Dreams. Brett asked Kevin to join the Royals in spring training next year and Kevin's first reaction is he didn't want to get in the players way on the field. Brett's answer to that as he told the Kansas City Star is the Kevin isn't one of those uncoordinated celebrities on the field. He has a good swing. He is a good player and a switch hitter. And Brett said, "He doesn't understand what his movie mean to ball players and he doesn't understand how someone like Kevin Costner loosen things up in the clubhouse for players."
My question is what position Kevin would play defensively? I don't think we will see him on the mound as a pitcher. If Brett is talking about Kevin's hitting abilities then as an American League Team he could be a designated hitter. Now it was left up in the air about Kevin doing this and it will depend greatly on Kevin's schedule next February and March. So everyone in the Surprise AZ and the areas of AZ that the West MLB teams have spring training camps watch out for Kevin playing pre-season baseball in your area in 2005.