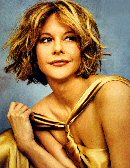 Meg Ryan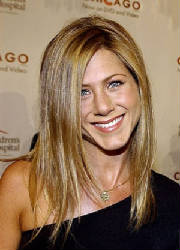 Jennifer Aniston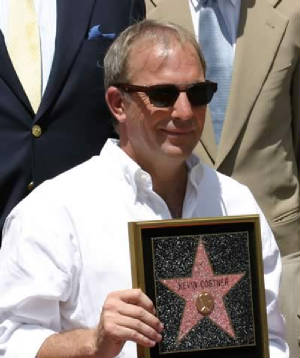 Untitled Ted Griffin Project AKA God Bless You Please Project Update
August 15, 2004
There are some changes in what we were calling God Bless You Please it is being known as the Untitled Ted Griffin Project. Now some of you may have heard that the project was shut down and Griffin has been fired as the director personally by producers Soderbergh and Clooney. Yes that is true and Hollywood is still buzzing about the reports coming off of this set. Here is what we know so far.
Kevin is still a BIG part of the project. Soderbergh and George Clooney both saying that Kevin Costner is as much a key to the success of this project as Jennifer Aniston is. Rob Reiner has been signed to director the still untitled project. Kevin has been reassured that they will shoot all of his scene in time for him to get to his wedding and have a honeymoon.
Greta Sacchi who was signed to play Kevin's ex-wife at the very last minute before they started principle photography has been written out. Charlie Hunnam who is playing Kevin's son part has been written down.
They go back to work August 18.
From all the rumors that were going on about this project is said that Jennifer Aniston complained that Griffin didn't have a clue on how to direct his own screenplay. Soderbergh and Clooney and then Rob Reiner viewed all the dailies of nine days of shooting and scrapped all of them. All said that Jennifer Aniston and Kevin's comedic talents were wasted.

Two take to 'Tortilla'
July 26, 2004
Variety By Michael Fleming
Kevin Costner and Meg Ryan will team in "The Tortilla Curtain," a Dayan Ballweg-scripted adaptation of the T.C. Boyle novel.
Stone Village's Scott Steindorff will produce the film with Costner, and they are mobilizing financing for a late fall start in Malibu.
Steindorff and Costner are already producing "Modoc: The True Story of the Greatest Elephant That Ever Lived," which Costner intends to helm (direct) as well as topline (star in).
They are out to directors on "Tortilla, " the story of two families, one wealthy and experiencing suburban angst, the other illegal immigrants from Mexico trying to make a new life for themselves. The two clans cross paths in a hit-and-run accident. Pic will cost $20 million; no studio is yet attached.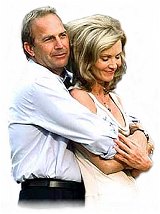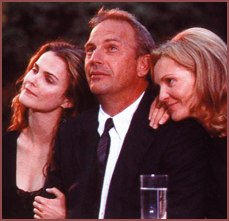 The Future for Kevin
There is a release date for The Upside of Anger, well sort of. The release date is set for late December 2004. This movie has received a lot of good talk for subject matter and content.
(There are changes to this project described above this.) And it is also confirmed that Kevin will co-star with Jennifer Aniston, Shirley MacLaine, and Mark Ruffalo in the movie God Bless You Please. It is now being said that it isn't a sequel to The Graduate but a continuation of The Graduate with the subject matter being focused on the Jennifer Aniston character in an effort to find herself discovers that her grandmother (Shirley MacLaine) was the person that the character Mrs. Robinson was based on. She also has an affair with an older "tycoon" type (Kevin). This movie is set to begin filming in August 2004. It's release date is supposed to be either late 2004 or early 2005.
God Bless You Please is written and will be directed by Ted Griffin who is a part of the Section 8's team of Steven Soderbergh and George Clooney. He wrote Ocean's Eleven and will make his directoral debut with GBYP. Jennifer Fox and Ben Cosgrove will be exec producers for this film.
There is no further word on The Taming of Ben Taylor, or the untitled project with Roger Donaldson, nor anymore on Modoc.
The only one that would leave me scatching my head is The Taming of Ben Taylor. It was supposed to be a done deal and start filming this summer with Diane Lane. Now there is word out that Kevin is doing GBYP and Diane Lane is set do start production on another movie in late July. I hope that Taming of Ben Taylor hasn't been shelved because it sounded good and a lot of people couldn't wait for this one. I also hope it doesn't go the way of Two Guys and a Job which turned into Hollywood Homicide with Harrison Ford.