Day 2 - 4/30/04 - Today Brian and Kevin had an exceptional days on the golf course. They were the last group out at 1:30 PM the announcers kept on saying that Kevin had gone fishing before going to the golf course. He said it did relax him and he was feeling good. I guess he Eagled the first hole.
Then as things went along they ended up in first place as a team at -22 three strokes up on the nearest team to them.
And Brian well Brian Hull is in third place as a pro just one stroke behind the two leaders and this could be Brian's first win as a pro. He is playing his best golf right now and everyone is rooting him on.
Kevin is of course Kevin and is a fan favorite at any of these golf tournaments or anything else he attends from award dinners to premieres of other friends of his movies. He always takes the time to stop and talk and sign autographs.
Day 1 - 4/29/04 - The Pro-Am team of Brian Hull & Kevin are in first place after the first round at The Cliffs in Travelers Rest, SC.
Brian Hull is back on the Nationwide Tour with Kevin as his main sponsor after take off a year for shoulder surgery and recovery. Brian is at -3 about 4 behind the leaders with the Pros.
Brian is going after his PGA Tour Card which he says he wants this year. According to PGA Tour rules you must win 4 titles on the Nationwide Tour or come in the top twenty in money winnings. You don't have to be the title winner to earn money on the Tour.
We wish Brian the best in getting his PGA Card and hope he goes all the way. Maybe next year we will see Brian in the U.S. Open. There is also the possibility that he could play in it this year. I don't know what he has to do to get there, but let's hope Roy McAvoy is giving him lessons.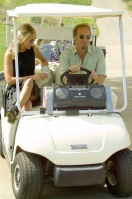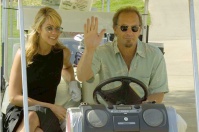 Mark & Brian 4th Annual Celebrity Charity Golf
The last time Kevin played in a charity tournament was on March 20, 2004 at the Mark & Brian 4th Annual Celebrity Charity Golf (I think that was the name).
Christine also played in this one. No one is saying about how they did golf wise but it was said to a good time for all.

Kevin was also at the AT&T Pebble Beach Pro Am Golf Tournament in Feb. He came within one shot of making the cut to the final round. But for the past 3 years Kevin has missed the cut.
I have photos posted on the Kevin's Dragonflies mail group at Yahoo. You have to be a member in order to view them. There is an album for the ATT PB04 and Celebrity Golf for Mark and Brian. The addy is: