News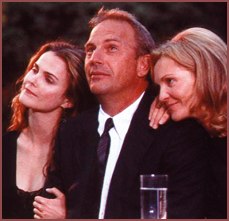 The Upside of Anger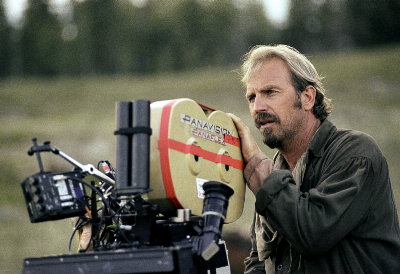 The Future for Kevin
Well it looks like Kevin is going to be quite busy for the next few years, yes I said years.
The next project for Kevin to be released this year will be The Upside of Anger, starring Kevin (of course) and Joan Allen. He says he plays a stoner former baseball player shock jock. The brief what is this about is a dark comedy about a widowed woman (Allen) with four daughters, a friend (Kevin) of her departed husband helps them through the difficult time in their lives or is it?
This is to be released in 2004. Filmed this past fall in London. It was written and directed by Mike Binder and was picked up by New Line Cinema for distribution.
Next, well no one seems to know for sure exactly what is next for Kevin here is a list of what Kevin has on his plate to do; Horizon is the second of the Westerns that Kevin had ready to go in 2002 when he choose Open Range to do. Disney had an option on Horizon but reports said that during the holidays of 2003 Michael Eisner passed on it and it will be done by Beacon Pictures which is headed by Armyan Bernstein (For Love of the Game, Thirteen Days).
Then there is The Taming of Ben Taylor, this is a modern day Taming of the Shrew with gender reversal. Ben Taylor (Kevin) is a vineyard owner in California wine country who is fighting with a strong willed real estate person (tentatively Diane Lane) for the purchase of his vineyard to be made into a golf course. In the words of Ben Taylor: "I hate golf."
There is yet an untitled project with Roger Donaldson (No Way Out, Thirteen Days) that Kevin wants to do in the future and before he does Horizon.
And just today (Mar. 5, 2004)it was announced that Kevin is in talks to star in, direct and produce Modoc: The True Story of the Greatest Elephant That Ever Lived. This is described as a Black Stallion type story of the relationship between a man and his beloved circus elephant. This one won't even go into production until sometime in 2005. Right now they are looking for someone to turn this novel based story into a script.
And after all of that I almost forgot that Kevin is planning a wedding of about 500 invited guests to his ranch in Aspen that is estimated to last at least three days. He is now building a special pavilion type bunk house or some kind of guest house to accommondate his and Christine's nuptials sometime in late Sept. 2004.
I just hope that Kevin is eating his Wheaties.
Kevin with the Western Heritage Award
Kevin with Career Achivement Award

Mom, Dad, Christine, Joe, Lily, Kevin, Annie at the Hollywood Star ceremony
Some Awards for Open Range & Kevin
On August 11, 2003 Kevin received his Star on the Hollywood Walk of Fame.
On Oct. 3 2003 Kevin and Christine flew all night from London where Kevin was filming The Upside of Anger to attend the Autry National Center Inaugural Gala in which Kevin received the prestigious Western Heritage Award for his outstanding achivement in portraying Cowboys and Native Americans in Film.
On January 11, 2004 Kevin revceived a Career Achivement Award from the Palm Springs International Film Festival.
On April 17, 2004 Kevin will revceive the Outstanding Theatrical Motion Picture Award from the The National Cowboy & Western Heritage Museum in Oklahoma City, OK for Open Range.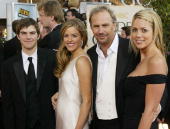 Joe, Lily, Kevin & Christine
It Runs in the Family
On January 25, 2004 Lily was Miss Golden Globes at the Golden Globes Awards.
Dad (Kevin), Mom (Cindy), brother (Joe), and Christine all attended the awards ceremony watching Lily give out the Golden Globes to the presenter all night at the awards show.
Lily told all the interviewers on the Red Carpet that Joe was her date for the night. Dad was just beaming at his second daughter who was just beautiful. Joe was reluctant to get up on the podium to be interviewed a few got a shot of all of them with the exception of Cindy.
To those of you who don't know about being named Miss or Mr. Golden Globes it is given to a second generation of a movie maker who shows intent and potential to follow their parent into movie making.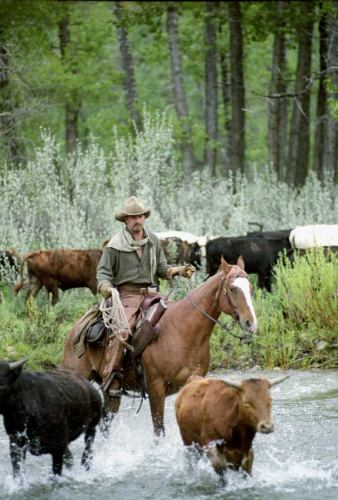 Open Range box office totalled over $53mil. during its run in North America. The DVD was released on Jan. 20, 2004 and the sales to date the movie in North America alone has reached over $100mil.
Open Range has gotten critical acclaim but no nominations for any of the major awards.